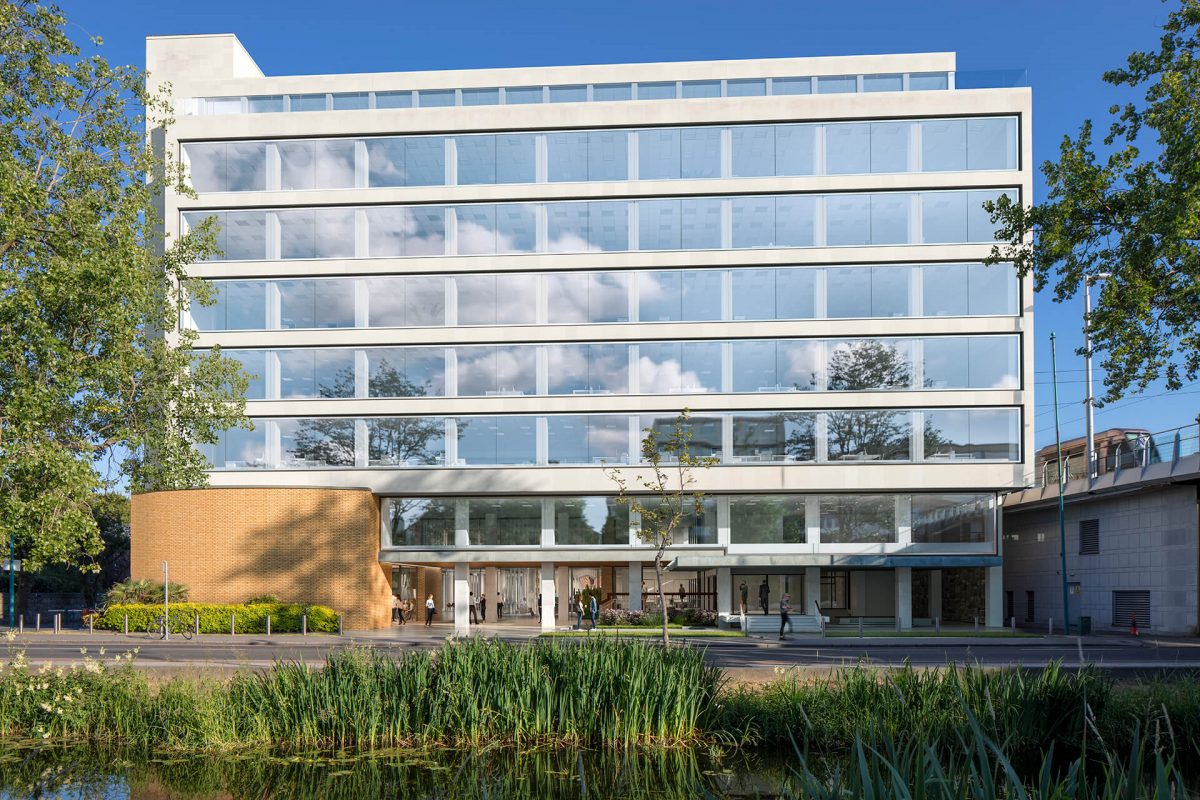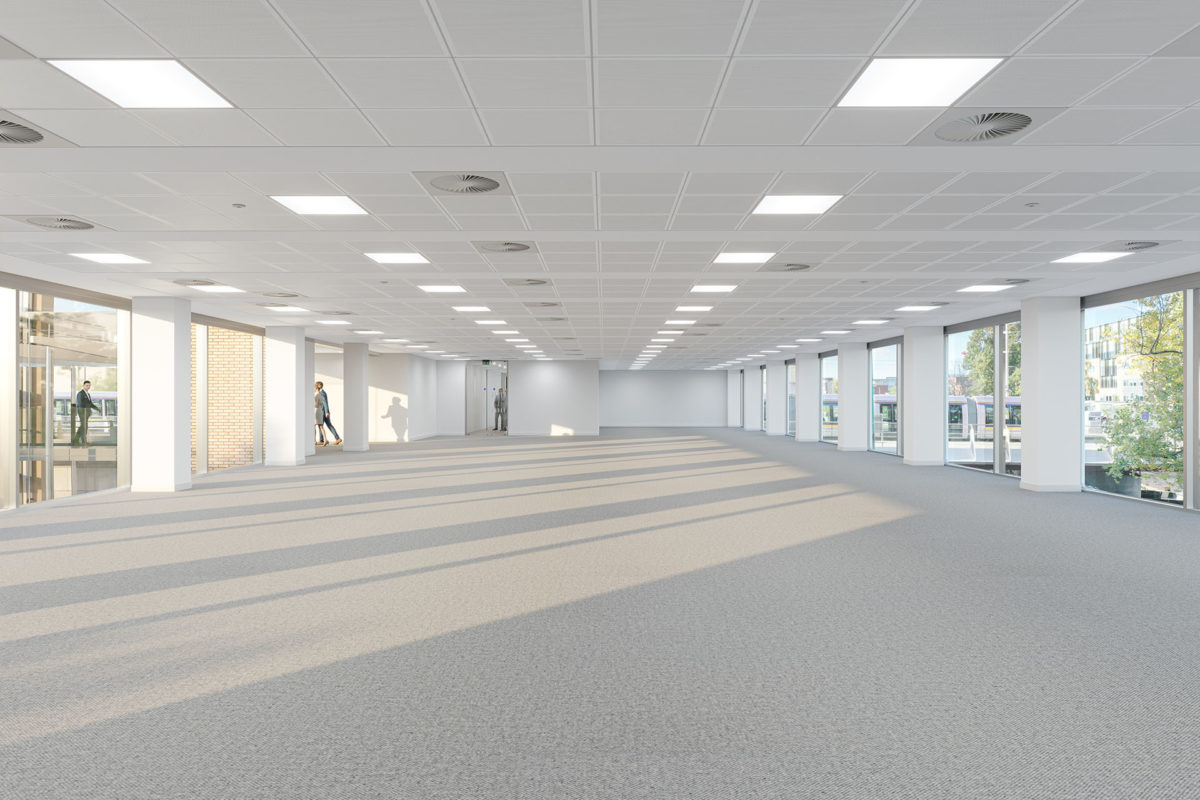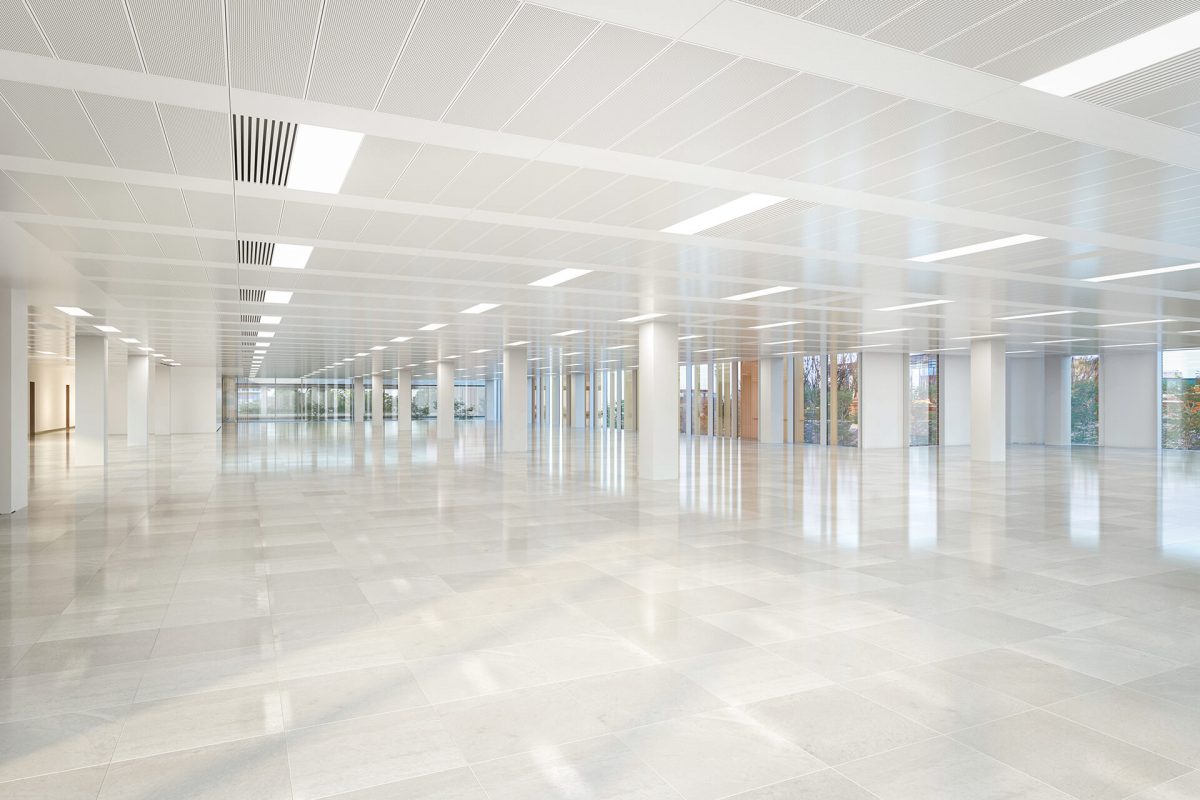 Work
with light
The free façade means you get a floorplate that adapts to your every need.
The designers of the original headquarters building showed remarkable foresight, predicting today's demand for open plan, sunlit offices with scenic views.
The new architects have replicated this openness in the new wing, so the flow of ideas through the workplace is as smooth as the movement of the passing trams.
The details make the difference
The scheme targets ratings of LEED v4 Platinum and BER A3. Micro-combined heat and power systems (Micro-CHP) supply the workspace with renewable energy. Sustainable energy features include:
Heat recovery on office and toilet cores
Fresh air and extract air systems
High efficiency water-cooled chiller
Energy saving gas-fired condensing boilers that generate hot water for heating and washing
Water saving bathroom fixtures
LED lighting and control systems
Structural grid: 4.6m x 13m (general)
Floor to Floor: 3.5m for office floors
Floor Zone: 100mm (including access tiles)
Ceiling Zone: 600mm deep (including concrete down stand beam and ceiling finishes).
Floor-to-ceiling heights range from 3.1m on the first floor to 2.5m on the penthouse floor; ceilings are 2.65m high on the office floors.
Structural grid: 9m x 9m or 9m x 7.5m (general).
Planning grid: The new building is designed to accommodate a 1.5metre planning grid, following through from window location to ceiling and lighting layouts.
Floor to Floor: 3.5m for office floors
Floor Zone: 100mm (including access tiles).
Ceiling Zone: 555mm deep (including ceiling finishes). On office floors, the floor to ceiling height is 2.70m.
Floor Loadings: Office Floors 4kn/sq. metre per person plus 1 kn/sqm partitions (4 +1).
Sanitary Provision: WC design density – 1:10 sq m 60:60 Male:Female (based on total building provision).
Means of Escape: 1 Person / 6m2.
Internal Climate: 1 Person / 8m2.
Lift Provision: 1 Person / 8m2.
New Building: 3 x 15 person
(1150kg @ 1.6m/s)
Fire Fighting Lift: 1
(1150kg @ 1m/s & 630kg @ 1m/s)
Existing Building: 2 x 10 person
(800kg @ 1.6m/s)
Passenger lift average waiting time is less than 25 seconds. This means that the buildings lift installation will meet the British Council of Offices (BCO) Guide to Specification.
The building and the arrangement of services is designed for a single tenant occupancy or two self-contained tenancies with a division between the new and existing building from first to fifth floors.
Car Parking: 27 spaces (22 at Basement Level, 6 at Ground Level).
Bicycle Parking: 136 bays.
Showers: 12 Showers (6 Male, 5 Female and 1 Unisex Accessible).
Lift Lobbies
Natural stone to lifts and lift lobby floor and walls at Ground Floor
Porcelain tile to lift lobby floors at basement and upper floors
Painted plasterboard to lift lobby walls at basement and upper floors
Toilets
Porcelain tile walls and floors
Veneered hardwood flush cubicle system
Back-painted (Silver Bronze and White Soft) satin glass panelling to rear of WCs and urinals
Shower and Changing Rooms
Porcelain tile walls and floors
High-pressure laminate shower
Cubicle system
Corian 'Designer White' vanity units
Design parameters based on one person per 8 sq m, lighting at 12W per sq m, general services at 25W per sq m, mechanical plant at 20kW per sq m.
Lighting
Office Floors: Energy efficient LED
modular recessed dimmable luminaires to comply with design intent of CIBSE Lighting Guide 7 (LG7).
Reception: Bespoke lighting design to reflect high quality reception area.
Toilets: Low energy lighting scheme.
Lighting Control
The main tenant lighting control system will utilise a DALI lighting control system connected on a communication network to allow daylight and occupancy control. The system will be programmable for any reasonable future fit-out requirement. Landlord areas will be provided with standalone presence / lighting control sensors.
Standby Power
A lift safety generator installed by the landlord will supply critical landlord loads in the event of mains failure. Landlord critical loads include firefighting lifts and mechanical plant located within the basement.
Fire Alarm
A fire detection and alarm networked system in accordance with IS3218 and designed to an L1 standard installed throughout the building. There are individual fire alarm loops to each tenant area.
Emergency Lighting
An emergency lighting system in accordance with IS3217 installed throughout the building.
Security System
An IP based CCTV system will monitor all Landlord core areas, reception, entrance foyer and all external areas. The systems shall be designed to IS EN 50131 standards and the PSA Code of Practice.
Communications
Comms Rooms will be served by different incoming telecom duct networks to allow diverse connections to the building. Each comms room has spare duct capacity to allow connections to other providers in future. Cable tray distribution links the comms room to an IT riser that services the office floors.
Ventilation & Comfort Cooling
Fresh air is generated by new high-efficiency thermal-wheel heat recovery air-handling units. The fresh air is filtered and tempered with heating or cooling. The 4-Pipe Fan Coil Unit (FCU) comfort heating and cooling system is installed in the ceiling voids.
Heating
Highly efficient gas-fired condensing boilers provide heating for the following applications:
FCUs in open plan offices, reception & lift lobbies
Radiators in stair cores and back of house areas
Air Handling Unit (AHU) heating coils
Domestic hot water cylinder heating coils
Cooling
The offices will be served by chilled water circuits from the central landlord chiller plant for the following applications:
FCUs in open plan offices, reception & lift lobbies
Air Handling Unit (AHU) cooling coils
Domestic Water Services
Mains, cold and hot water are piped to the various outlets and sanitary facilities to be provided in the office development.
Hot water storage cylinders are provided in the basement heating energy centre to meet the requirements of the landlord sanitary facilities and cleaning facilities.
Building Management System
A Building Management System (BMS) controls the primary mechanical plant and environmental systems on each floor. The system is open network to all interfaces with other systems.
Ventilation Rates
Offices: 11 litres / second / person at one person per 8m2